The Christmas Dinner History in Kansas City

---
Near Thanksgiving in 1977, Major Richard "Dick" Fletcher took command of the Kansas City, MO Metro Patrol Station. His desire to both protect and care for the citizens of his patrol drove him to issue a challenge to nine sector roll calls: develop a community project for the Christmas celebration.
Two projects emerged. In the first, four officers volunteered to collect gifts for needy children and distribute them Christmas Day. The second came from Westport foot beat Officer Richard White. He volunteered to gather senior citizens for a Christmas Day dinner. Officer White's idea was the result of several similar service calls. Police responding to calls from seniors found that the elderly were just as appreciative of the officers' human companionship as their protective service. The officers saw many untouched gifts (normally from previous years) which did not replace the family these seniors missed on Christmas. Stories about children moving across the country were common. Soon these children had families and children of their own, making it impractical to load up on a plane to visit grandma or grandpa for just a few days.
With this in mind, Officer White spoke with Elizabeth Wilson, owner of Asiatica in Westport. She confirmed the need for a senior oriented Christmas celebration from her personal experience with the community. While it wasn't manageable to have officers respond to all senior homes and maintain safe levels of protective police presence, it was possible to pick up guests from their homes and offer a family atmosphere with a few officers serving as proxy family. Here, dinner would be served and the joy of Christmas could be shared with those that would normally be alone.
About two weeks before Christmas in 1977, the concept of a Senior Citizen Christmas Dinner was proposed to Major Fletcher. He whole-heartedly embraced the idea and volunteered his family to drive two borrowed church buses to aid transportation. The Granada Royale (now Embassy Suites at 220 W. 43rd St.), where Officer White served as hotel security when off-duty, became the first host for the dinner. Michelle, daughter of the hotel's owner, fell in love with the idea and enlisted the help of the front desk manager Dave. Together they decorated the second floor banquet room and set out the best china and crystal for their holiday guests.
Thirty-five seniors attended the first dinner. To start the day, the gifts collected for underprivileged children were placed under a tree while the four officers planning on delivering the gifts took a few minutes to spend with their thirty-five new friends. The seniors thanked everyone and sat down for dinner as the four officers left with their presents. In the following years, several of the same guests would return and bring their friends that would otherwise be without family on Christmas. The guests became a family, and annually looked forward to seeing familiar faces.
Exchanging hugs and wishing, "Merry Christmas," embodies the spirit of the Dinner. It reminds us of the original Christmas greeting: "Joy to the world for the Lord has come." We are joyfully celebrating the greatest gift given to man, which was One laying down His life for others on the cross over 2000 years ago. The Dinner has seen many blessings throughout its life which contribute to a successful Dinner every year.
We have never seen an injury in our 39 years, despite two Christmas Day blizzards.
Earlier in the Dinner's history, transportation fell through the day of the Dinner. Officer White contacted the KCPD dispatcher. 60% of the cars were called in and dispatched to pick up seniors. The seniors all ecstatically told how THEIR police officer turned on the sirens and escorted them to the dinner. They felt as important as if they were going to a state dinner at the White House. The true miracle was the silent hours when nearly all calls stopped and immediately restarted after the last senior was returned home. It was a silent reminder of who is in control.
While waiting in a lobby for a television interview for the evening news, Officer White was visiting with a gentleman waiting to also be interviewed. During the conversation Officer White explained why he was being interviewed. The gentleman asked if all was going well and Officer White explained the difficulty arranging transportation for the growing guest list. The man wrote his contact information on a piece of paper and said to call him at Area Transportation Authority (shortened to ATA). Next Christmas Officer White called only to learn the gentleman was the ATA director. Volunteer Union drivers and ATA provided buses continue to make the dinner possible.
In 1979, funding for the dinner was difficult to gather. Columbia Bank permitted Officer White to write a check for $2000.00 and make up the difference over the following three months. This allowed us to provide for our senior guests once again.
In 1998 when now-retired Officer White suffered a heart attack following Thanksgiving, local media figures, such as
Michael Mahoney of Channel 9 and Kathy Quinn of Channel 4, showed an incredible degree of cooperation never seen before in the news media. They spread the message that the Dinner would take place as normal. Their message produced the much-needed volunteers and resources to make another year successful. Over 300 guests were served that year.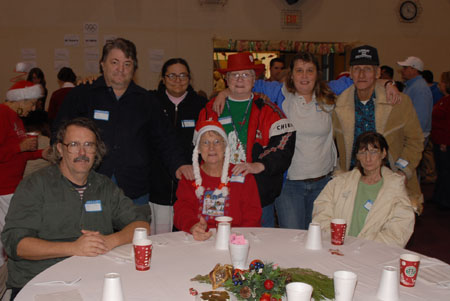 The Dinner has changed quite a bit over the years. We started at the Granada Royale Hotel (Embassy Suites) at 220 W. 43rd Street, but after five years we relocated to St. Francis Xavier Elementary School to serve our growing family. We now serve at St. Peter's Elementary School. The guest list has grown from 35 to 500, and in the late 80's we began delivering meals for those that were home bound. We are continuing to spread the Christmas spirit with many potential locations interested in future expansion. This creates unique new challenges, but as always, our volunteers are our biggest asset.
Coordinating an event of this size would not be possible without the time and dedication of amazing individuals. Pastor Jim Dubole of Westport Cooperative Services was a strong supporter early on and helped man the phones to answer questions and organize reservations. Helen Weaver handmade pins for every guest and volunteered for over 30 years until her passing. She only required that every person be given a hug and wished, "Merry Christmas," before being personally pinned and escorted to a seat. Decorations are provided every year by a donor who wishes to remain anonymous. Numerous ATA employees sacrifice time with their families on Christmas day to provide transportation. Kansas City, MO Police Officer Shane Stamm is organizing our first expansion to North Kansas City. We have obtained a 501 (c) (3) status so that our supporters receive deserved credit. The meal is constantly top notch thanks to the many experts who have invested their time in our cause. In our first year, certified Master Chef Emma eagerly helped prepare meals and continued to volunteer into her 90's. Chef Dave joined us our second year. Though he eventually moved to Phoenix, AZ, he flew to Kansas City every Christmas so that he could continue to help. Chef Paul Matsuoka continues to help after 30 years. Retired Kansas City, MO Fireman "Fast Eddie" smokes our turkeys to perfection in his expertly built smokers. Tippin's often provides pies for dessert. Without these and several unmentioned volunteers, the Dinner would not have made it past the first year.
If you are interested in being a part of our family by service, donation or as a guest, please contact us at kcseniorcitizendinner@gmail.com. Merry Christmas!